{ This post is linked up with
Style Elixir
;
The Pleated Poppy
;
Watch out for the Woestmans
;
Lena B, Actually
and
Rachel the Hat
;
Karly Kim
&
Glossy Blonde
}
I often have a small and maybe just
slightly
bitter laugh when I see pictures of outfits that are deemed suitable for winter. Whoever can call a blazer, scarf, and high heels "winter garb" obviously does not experience winter the way I do - which is for literally half the year, with dangerously cold temperatures and snow banks that, this year, grew a fair bit higher than me. I'm only 5"1 - but people, no one should have to experience 5 foot snowbanks to begin with. Welcome to our lives since November.
Winter is tough here. And after the initial enthusiasm for warm layers and beanies and boots wears off, it's easy to start feeling all like, "where is my
body
under my chunky sweater"?
So how, how, how on earth do you remain relatively enthusiastic about how you look without sacrificing sensibility? And how do you remain sensible and, well, un-frostbitten without just resigning yourself to thermals, a parka, and a ski mask?
Here are three simple ideas that I hope will give all you winter warriors a bit of a boost.
1. PICK YOUR COAT AND BOOTS WELL.
The only items of clothing I have ever spent full price on have been winter coats and boots. You wear them EVERY SINGLE DAY for months and months. You need to like them. (having said that, the coat and boots in these pictures were both thrifted, so if you're willing to hunt a bit you don't necessarily have to settle for ticket price).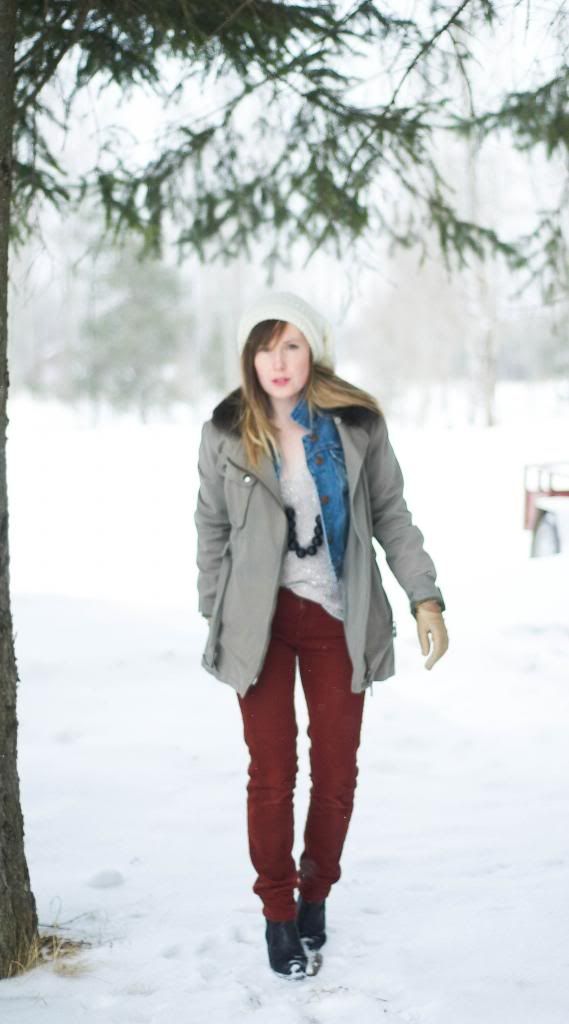 2. ENJOY HATS AND SCARVES.
If you've gotta wear 'em, make 'em fun. I really love vintage knits, and score them all the time at thrift stores. On particularly chilly days I will wear a scarf indoors as well. It's a great accessory.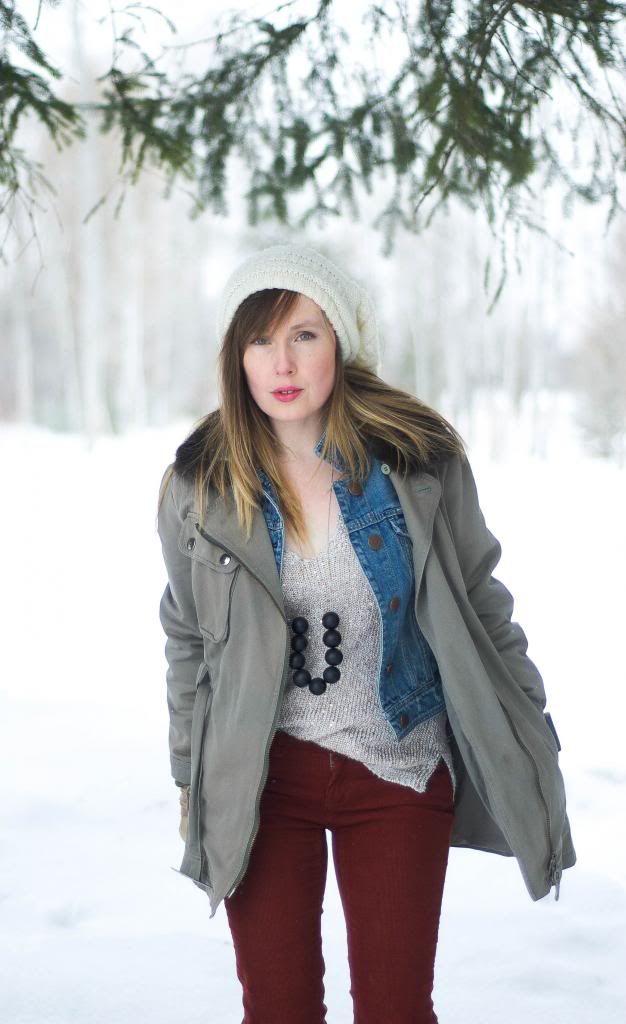 3. EXPERIMENT WITH LAYERS.
At the end of a long winter, I often find myself defaulting to the same outfits just out of sheer creative exhaustion. But that's the point where trying out some new layering combinations is just the ticket. Go through your closet and just mix and match until you feel a bit happier. Tip on layering: mix lighter-weight layers with chunkier ones to avoid looking like the Michelin man ;)
Outfit deets:
> Coat: United Colors of Bennetton (thrifted)
> Cords: Joe Fresh
> Jean jacket: American Eagle (thrifted)
> Sequin sweater: RW & Co (thrifted)
> Boots: Jones New York (thrifted)
> Vintage beanie and gloves: thrifted
> Necklace: Jessica Wolf Designs